Millstone Movies
Why Millstone?
Co-founders David Grant, Nate Hodges, and Michael Maletic have learned in their time making films that despite their love for storytelling, it can also be quite a grind! Sometimes it seems that the desire to make movies has become a millstone around their necks. Hopefully, these difficult experiences will be grist for the mill, and in the end, we'll all make some bread.
Filmography
Toaster
All Blown Out
El Squeeze
El Squeeze II: The Interview
Hollywood&Vine (PSA)
The Right Reasons (PSA)
Jump Into Ohio! (PSA)
El Squeeze III: Squeeze Fiction
El Squeeze IV: Pure Torture
Seven Sins in Seven Hours: A Boy's Tale of the Seven Deadly Sins
The Big Date
Non-Fiction:
Electronics Boutique Training Film
The Anne and Jeff Wedding Video
Michael Griffin, Magician Extraordinaire
The 5th Birthday Video
Father and Son Baseball Video
Check out our movies!! Millstone Movies at YouTube!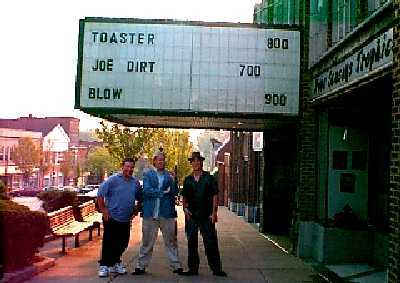 Millstone News
The Big Date has been completed, and made its WORLD PREMIERE on the big screen at the Arena Grand in downtown Columbus, Ohio on October 7th, 2004 at 7:30pm! It was a rousing success! Thanks for all who attended. You can also see it now on the internet at Dave Grant's Wolf In Wool Myspace site (linked elsewhere on this site).
El Squeeze part I is now to be found online at Triggerstreet.com. Please go view our first finished short at this site now!
Congratulations to Toaster actress Melissa Wintringham for her appearance on the hit FOX TV show "Joe Millionaire!" Check out the "Joe Millionaire" star's gallery here on our site!
"El Squeeze III: Squeeze Fiction," starring Michael Maletic, Sammy Boy, and David Grant is awaiting new music and some re-edit for appearance on the above website.
Joining the glut of films queued up at the Millstone computer are "El Squeeze IV: Pure Torture," and a series of shorts called "The Seven Deadly Sins." Check this page occasionally for updates!
Web Sight is Always 20/20
This site will be updated once a month. Maybe. If we have time. The last update was 06/18/2006. Please check back often. We threw away our guestbook. Send email to MillstoneMovies@aol.com with your complaints and comments!
Now is not the time for toast.
From the premiere of "Toaster"